There are no new workshops planned due to the corona outbreak!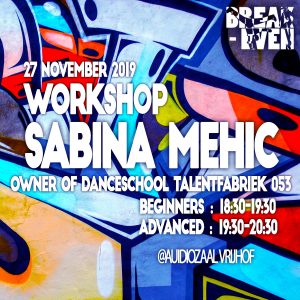 Sabina Mehic is the owner of danceschool Talentfabriek 053 and she has blessed us with many workshops! She used to be a substitute teacher for break-even and still stays in touch! She always makes sure she talks a bit about the style she is going to teach and where it came from! Her workshops range from popping to Jack swing and more! Some of her choreos can be found on our facebook page and we listed them here. 
Our own breakdance members organized a breakdance workshop for all the hip hoppers! See the picture to the right to see how we did. Special thank you for this workshop to Timo Brems, Vincent Rossen and Luuk van Ewijk for organizing, hosting and preparing the lesson.